By
acura
Sun Nov 18, 2018 1:50 pm
Hello all,
I have updated to MPC Software 2.3.0 and I am using it with the MPC Renaissance. Since I encountered 4 bugs that I haven't seen being mentioned yet, here is a description. Can anyone confirm this? I hope Akai will fix this with the next update.
Bug #1 - Effects on pads can't be opened from Hardware:

In this project I have 2 effects on Pad A02 (red) and 1 effect on the whole Program 001 (yellow).
From the hardware, when I go to Program Edit > Effects, I try to open the Decimator on Pad Insert 1. Instead, the Vintage Compressor from the Program 001 is being opened.
From the hardware, if I want to open the PEQ 4-Band from Pad Insert 2, nothing happens.
-->
Apparently, opening the pad inserts from the hardware opens program inserts instead.
Bug #2 - Time division settings on LCD are wrong: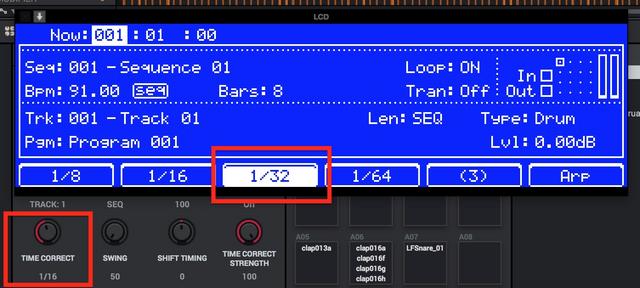 You can see in the MPC Software, that a time division of 1/16 is set. On the LCD though, a time division of 1/32 is shown.
On the hardware, if I press F1 for 1/8, the value 1/16 is shown instead on the LCD. It's always off.
(I had a project, where this error went away after some time, altough I can't recreate why and how...)
-->
Apparently, the implementation of time division values on the LCD are buggy. Obviously because of the implementation of the new arpeggiator...
Bug #3 - Description of instrument settings on LCD disappears: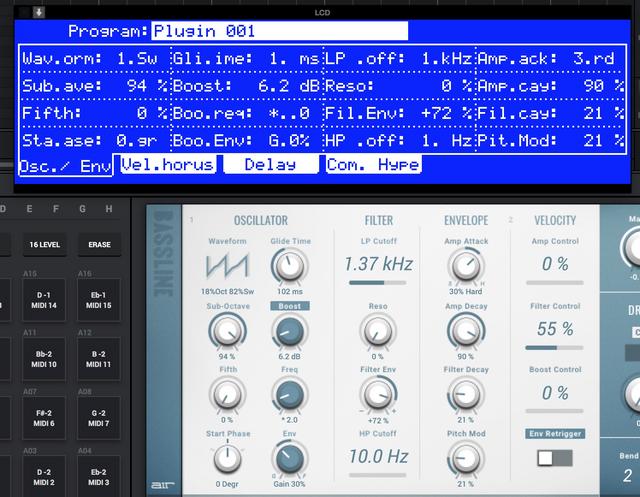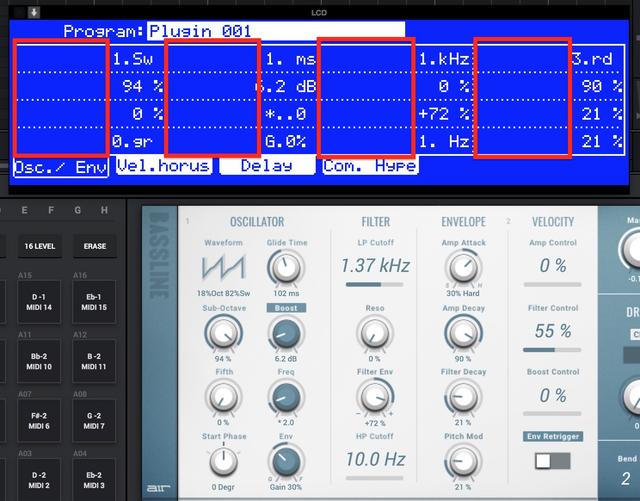 When I want to edit an instrument plugin (Internal Plugins or External Plugins) in Program Edit and I hit any pad, the description of the settings disappears on the LCD, as you can see in the 2nd picture. When I change the page and return to the first page, the description has reappeared. This happens to every page and every instrument plugin, whether 3rd party or e.g. any of the new implemented internal instrument plugins like Bassline. As soon as I hit a pad, the description disappears.
-->
The implementation of instrument plugin editing on the LCD is buggy now.
Bug #4 - Cursor highlighting on LCD disappears:


I admit this is a minor issue compared to the previous three, but nevertheless it's sloppy programming.
In a drum program, when I navigate to Program Edit > Samples > BPM, as you can see, the cursor disappears. I can still change values though.
My system description:
MacBook Pro Early 2013, 2.4 GHz i7, 8 GB RAM, 512 GB SSD
Mac OS High Sierra 10.13.6
MPC Software 2.3.0
MPC Renaissance